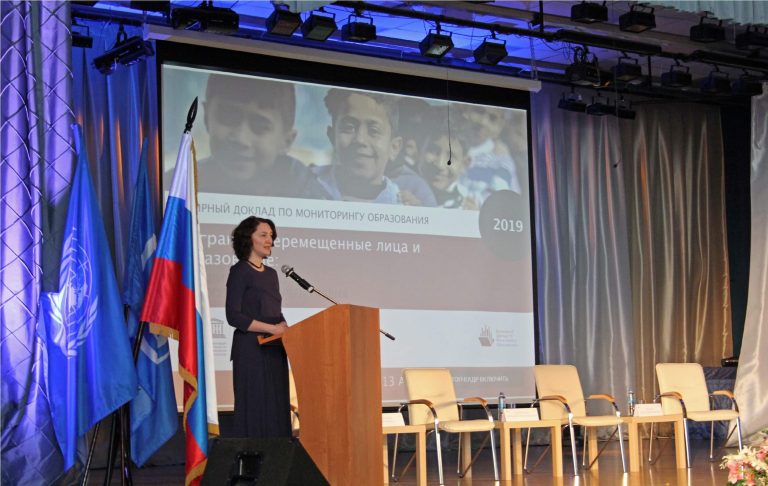 April 12 the presentation of the 2019 GEM Report Migration, displacement and education: Building bridges, not walls was launched in Yekaterinburg, Russia.
GEM Report presented by Katarzyna Kubacka, Research Officer of the GEM Report team, for representatives of government bodies, educational organizations and UNESCO Clubs of the Ural-Siberian Region.
Grigory Ordzhonikidze, Secretary-General of the Commission of the Russian Federation for UNESCO, Yulia Averina, President of Ural-Siberian Federation of UNESCO Clubs, Centres and Associations, Executive Board Member of World Federation of UNESCO Clubs, Centres and Associations and Nella Pruss, National Coordinator of the UNESCO Associated Schools Project gave welcome speech to the participants.
Within the framework of the Presentation panel sessions and open discussions were held according to the main topic of the Report:
Session 1: Mobility in modern education: Recognizing standard classification and academic qualifications
Session 2: Russian education in the context of global trends
Session 3: Adaptation of educational programs including culture-specific elements. Education for sustainable development and Global citizenship education
Session 4: Challenging prejudice, stereotypes and discrimination in education: practical pedagogy skills
600 people took part in the event; every participant was given a copy of the GEM Report. The participants inspired by principles and ideas of UNESCO and recommendations from the Report, have intentions to provide quality education for everyone and inclusion, and to adept education policy to the specifics of Ural-Siberian Region.